SettleMint lands €16M to beef up its web3 low-code platform and enter Japan
SettleMint's high performance low-code platform for building blockchain applications has seen accelerated adoption in Europe, MEA, India and Singapore in both public and private sectors. This investment will be used to solidify SettleMint's unique position in current markets, fuel international expansion and power the expansion of SettleMint's partner program.
SettleMint to add 60 to headcount globally and start operations in Japan.
SettleMint's high-performance low-code platform for building blockchain applications has seen accelerated adoption in Europe, MEA, India and Singapore in both public and private sectors.
SettleMint will use investment proceeds to solidify its unique position in current markets, fuel international expansion and power the expansion of SettleMint's partner program.
Featured in the photo on the right are SettleMint founders: Matthew Van Niekerk and Roderik van der Veer 
SettleMint, the blockchain application development platform for private and public sector, today announced it has raised 16 million in Series A funding. The oversubscribed, up round was led by Molten Ventures, a leading venture capital firm whose investments include UiPath, Thought Machine, Ledger Shape Shift and Revolut.
Molten Ventures is joined in the round by new investors in SettleMint including co-lead investor OTB Ventures, as well as Fujitsu Ventures, Allusion and Bloccelerate and existing investor Medici Ventures, L.P.
SettleMint has established itself as the category defining platform for blockchain application development for enterprise and is trusted by leading banks, financial services providers, global retailers, manufacturers and by innovators in the public sector.
Built from the ground up to simplify the development and implementation of complex blockchain applications, SettleMint has been recognized by Gartner as a 'Cool Vendor' and  featured in the Gartner Blockchain Hypecycle for the past two consecutive years. SettleMint has also been recognized as a 'Low-Code Trailblazer' by Everest Group and selected by the World Economic Forum as a "Global Innovator" in the blockchain space.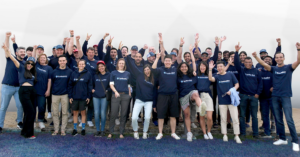 SettleMint intends to use the investment proceeds primarily to solidify the company's position in Europe (Belgium), MEA (Dubai), India (Delhi) and Singapore and fuel expansion into the Japanese market. Globally, SettleMint intends to add 60 new team members. SettleMint will also use the funds to keep its market leading platform two steps ahead to continue meeting the complex requirements of its clients by strengthening further its high performance low-code offering.
Featured in the photo on the left is the Strength in diversity: Over 40 SettleMinters, representing 19 nationalities took part in the company off-site in Portugal
As the NFT and metaverse hype of blockchain cooled in H1 2022, the world has become focused on utilizing the underlying technology to deliver business and societal value rather than short term speculative gains. According to a recent poll (Deloitte Survey, 2018), more than half (59%) of companies believe that their industry will be impacted or disrupted by blockchain technology and are eager to get ahead on the adoption curve to improve efficiency, remove redundant processes or capture new revenue streams. However, companies are confronted with the reality that only 1% of developers have experience building on blockchain technology.  With the acute shortage of capable developers, SettleMint provides a new and better option to build specialized blockchain teams or hiring expensive consultants.
SettleMint is a high performance low-code developer platform that abstracts away complexity to enable non-blockchain developers to build value creating applications rapidly and easily on web3 infrastructure. As the world moves beyond the hype, SettleMint enables developers to think big, start small and scale fast moving from use case concept to production in weeks rather than months or years.
Matthew Van Niekerk, SettleMint Co-Founder and CEO said: 
"When we launched SettleMint in 2016, we saw the benefits that companies would gain from integrating blockchain applications into their existing systems but also knew that there was no easy way for developers to achieve this. Let's face it, blockchain application development is hard. As practitioners, we also recognized the repeated and predictable challenges that every blockchain implementation faces and that enterprise grade implementations have very high security, scalability and interoperability requirements. 
SettleMint meets these standards and provides tools for the challenges that take away complexity to make blockchain application development easy, enabling companies to get ahead of the curve and quickly capture the benefits. Our latest financing round will enable us to accelerate growth and further support companies in capturing the benefits that blockchain offers for them and for their customers."
Roderik van der Veer, Co-Founder & CTO, SettleMint said:
"As with any innovative technology, bringing these radically new and rapidly changing technologies into enterprise environments poses a massive challenge for technical departments. SettleMint's platform merges these worlds into a first-class platform, running everywhere, anytime, with a top-of-the-line developer experience. This funding round allows us to push the boundaries further and strengthen our customer success operations."
Vinoth Jayakumar, partner at Molten added:
"SettleMint is enabling enterprises to drive real business value from decentralised applications built on blockchain technology.
While there is massive demand to implement blockchain solutions and applications, there is an equivalent shortage of blockchain expertise. SettleMint bridges that gap by allowing developers to build web3 products and focus on end-product business use cases, not on underlying complex blockchain infrastructure. 
We're extremely excited to back SettleMint in building the leading web3 development platform for decentralised applications."
Marcin Hejka, general partner & co-founder at OTB Ventures shares: 
"Application of blockchain into enterprise opens up massive transformational opportunities. Blockchain technology can offer higher scalability as well as better security and improved efficiency for a growing number of enterprise use cases. At the same time, implementation of blockchain in an enterprise environment is not easy. SettleMint combines unprecedented technical expertise together with profound understanding of enterprise clients' needs. SettleMint's team is perfectly positioned to deliver the long awaited blockchain value to enterprise clients and we're extremely excited to assist them along this way!"
About SettleMint:
SettleMint is a high performance low-code platform for blockchain application development that empowers engineering teams to build, integrate and launch applications on web3 infrastructure. SettleMint is the answer to move rapidly and easily from use case concept to business case realisation in a fraction of time and risk than any other solutions can offer. Blockchain, made easy.
The platform is a full-fledged Blockchain-Platform-as-a-Service solution. SettleMint offers not only a deployment environment, but also a complete development, middleware environment and an integration studio,  all available over the internet.
The high performance low-code platform makes it easy for IT teams to deliver blockchain applications rapidly, taking a visual development approach to deploy nodes, create new or customize smart contract templates, integrate end user applications and program complex and data integration flows with the 4000+ pre-built, fully configurable connectors. The platform includes a suite of ready-to-use tools, frameworks, templates, and APIs to speed up the development of any blockchain use case and give the most optimal user experience to developers.
SettleMint is a portfolio company of Medici Ventures, L.P., a blockchain-focused fund. The general partner of that fund is an entity affiliated with Pelion Venture Partners. Overstock.com, Inc. (NASDAQ:OSTK) is the sole limited partner of Medici Ventures, L.P.
For any questions or more information: hello@settlemint.com